Dora Agri is committed to supplying a wide range of Gibberellins acid (GA3) to our most valued customers for more than 10 years. Our GA3 series products are widely appreciated due to the stable quality, competitive price, and professional advisors. Welcome you to be a part of us and work together to help farmers have a better harvest! (other hot PGRs)
Gibberellin Acid GA3 Description
Product Name: Gibberellic acid GA3

Cas No.: [77-06-5]

Synonym: Gibberellin A3; Gibberellin; GA3; Gibb-3-ene-1,10-dicarboxylic acid, 2,4a,7-trihydroxy-1-methyl-8-methylene-, 1,4a-lactone;
Gibberellic acid(GA3): 90%TC
Appearance: White to Pale Yellow crystal powder
Molecular formula: C19H22O6
Loss on Drying: 0.03%
Solubility and Stability: Limited solubility in water. Dissolve in alcohol, isopropyl alcohol, ethanol, acetone, chloroform. Avoid excessive heating.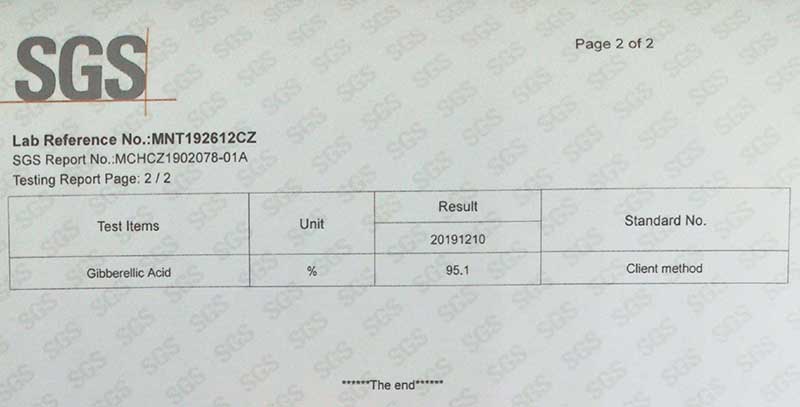 Benefits & Application of Gibberellin Acid
Gibberellic Acid Uses in Agriculture
1. Promotes greater photosynthesis and plant metabolism.
2. Larger leaves and larger roots.
3. Increases cell growth in stems, leaves, and roots.
4. Used to produce long, slender stems in plants grown in standard and semi-standard horticultural crops.
5. Increase the stem length of some flower crops engaged in the flower trade.
Improve the growth of young plants produced from cuttings, seeds, or flower stalks.
6. Used to help plants suffering from nutrient and growth deficiencies.
1. Because of the low solubility of gibberellin (GA3) in water, dissolve gibberellin (GA3) in a small amount of ethanol and then add water to reach the desired concentration.
2. Use with alkaline substances must be avoided; it may be used with neutral or weakly acidic substances.
3. Gibberellin (GA3) must be stored under low temperature and dry conditions. It should be used immediately after the addition of water.
Packing: 1 kg/Al.bag, 25 kg/Drum.
Support customize packaging
Courier Time: 5-7 days by TNT, DHL, FEDEX, UPS
Air Freight: 7-10 days
Shipping By Sea: South America: approximately 40-50 day
Southeast Asia: approximately 10-25 day
Africa: about 40 days
Europe: about 30 days