Dora Agri is the leading organic seaweed extract fertilizer supplier & wholesaler in China. Five years of export experience for organic concentrated seaweed extracts. Your best choice to purchase bulk high-quality 100% water-soluble seaweed extract liquid & powder at a competitive price. 
Why Choose Seaweed Extracts from Dora
We designed this seaweed extract series to have better integration between the natural soil and the plant.
Many necessary elements are found in seaweed fertilizers such as N, P, K, Mg, Zn, etc. All of these are beneficial to plant growth & soil condition. It's also rich in cytokinins, plant growth hormones that work both above and below ground to improve root growth.
For Plant, Dora Seaweed Extract Series satisfies the needs of essential nutrients for crop growth and increases resistance ability to stress/diseases. Seaweed manure is suitable for almost all plants, whatever turf, vegetables, or fruits.
At the same time, organic seaweeds play the role of "soil amendment." It feeds & maintains a healthy soil condition. And makes the soil more capable of keeping nutrients and moisture.
Seaweed fertilizer means healthy & high-yield crops. And follow the tendency of economic development & environmental protection to work together.
Dora KelpReal is extracted from the finest Bohai Bay kelp, a natural organic seaweed extract (currently applying for OMRI certification) rich in minerals, amino acids, trace elements, and vitamins. Dora Agri uses low-temperature enzymatic technology and its cold-processed extraction methods can preserve the activity and integrity of natural ingredients and nutrients, ensuring plants can be absorbed faster.
Dora KelpReal has natural advantages. It can be quickly absorbed by crops and has a high active ingredient. In particular, it contains natural plant growth hormones. Dora KelpReal is very beneficial in helping early germination and colonization of crops, enhancing crop resistance to abiotic stresses, and improving survival rates during the seedling period.
This formulation contains medium/trace elements, amino acids, vitamins, natural cytokinins, and natural growth hormones. Not only does it stimulate crop growth, improve crop quality, and increase yields. It also improves crop resistance to bacteria and viruses and mitigates damage caused by extreme weather conditions. Using this product will promote plant tolerance to stresses such as frost, pests, disease, and drought. You'll produce healthier, more marketable crops!
For soil, Dora KelpReal activates various beneficial microorganisms in the soil, improving the soil microhabitat and enriching the soil. 
Dora KelpReal can be used directly for foliar sprays and drip irrigation systems and can be added to conventional fertilization programs with nitrogen, phosphorus, and potassium fertilizers. It can also be used as a raw material in blended formulations with other agrochemicals.
Improve seed germination, root development, flower blooming, promotes the formation of stronger leaves and rhizomes, and fruit size

Supplement nutrition quickly improves crop nutrition absorption, improves crop quality, increases yield

Improve soil microbial activity, diversity, and promote soil health

Improve plant vitality, Improve crop resistance (cold tolerance, drought tolerance, salt tolerance, heat tolerance), and reduce crop diseases

Increase and stabilize chlorophyll, turn leaves green, and increase the sugar content
Specification of Dora KelpReal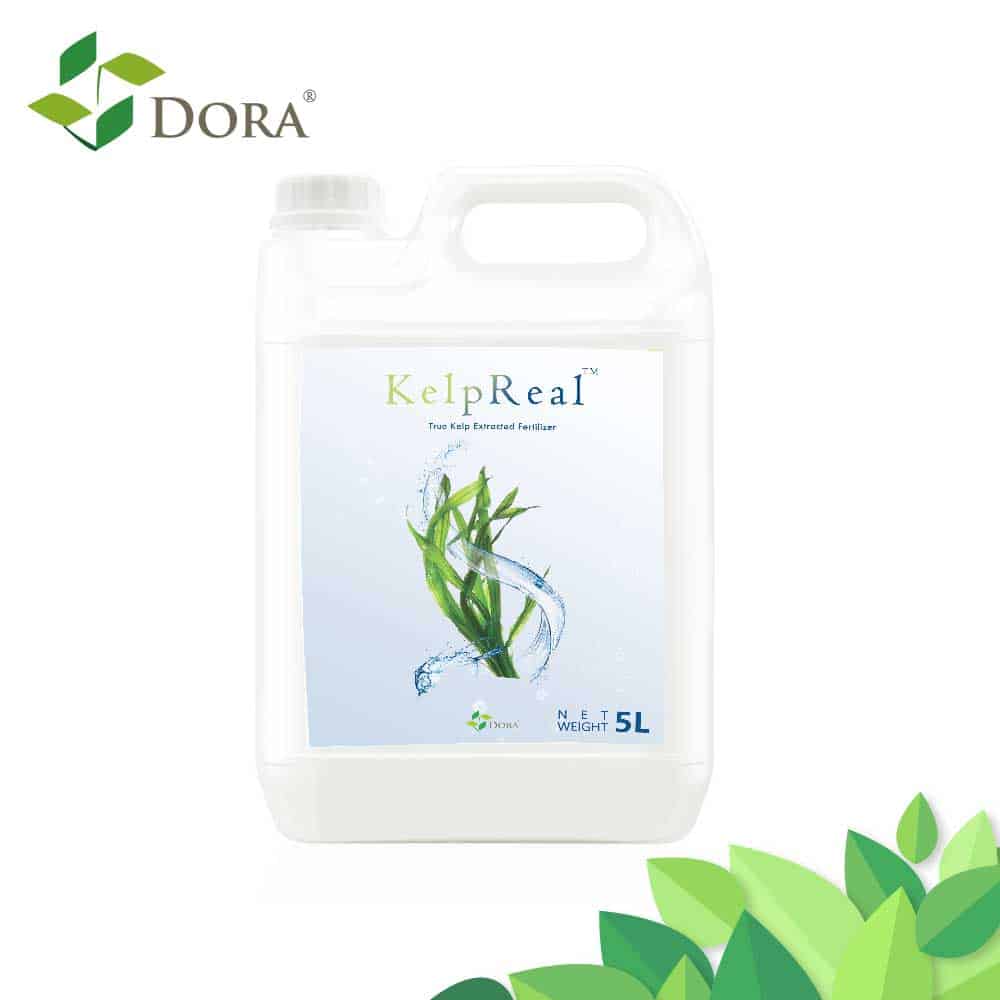 | | | | |
| --- | --- | --- | --- |
| | | | |
| | | | |
| | | | Below 45 ℃, Store in a dry place |
| | | | |
How to use?
Foliar Spray: 1:800-1000, Apply 4 times during the whole growth period (Seedling stage, Flowering period, Fruit set period)
Irrigation: 25-50kg/ha, Apply 1 time at planting.
How to use?
Foliar Spray: 1:3000-5000, Apply 4 times during the whole growth period (Seedling stage, Flowering period, Fruit set period)
Irrigation: 4-8kg/ha, Apply 1 time at planting.
1. Seaweed extracts must be shaken well before use. It can be mixed with other pesticides to enhance the adhesion and penetration of pesticides and improve efficacy. Avoid mixing with strong alkaline pesticides.
2. It is recommended to spray at 8-10 pm or 3-5 pm, if it rains within 3 hours after application, it needs to be reapplied.
3. Prohibit the use of metal containers, store in a cool and dry place, and avoid direct sunlight.
1. Seeds soaked in seaweed extract germinate faster, have higher root mass, plant growth, and higher survival rate. Dipping plant roots into extracts can also reduce the disease of the graft and accelerate root growth.
2. Geranium can make more flowers per plant; grapes are sweeter; yield of cucumber is increased by 40%. (frequency of fruit softening and decay is reduced)
3. Yield increases after seaweed treatment were measured in potatoes, sweet corn, peppers, tomatoes, apples, strawberries, okra, and oranges.
4. Dora KelpReal used on durian trees together with pesticides. Compared with the only pesticide group(CK), the durian trees treated by KelpReal, grow stronger and avoid phytotoxicity problems. After using Dora KelpReal, the durian tree grows more side branches and grows more vigorously.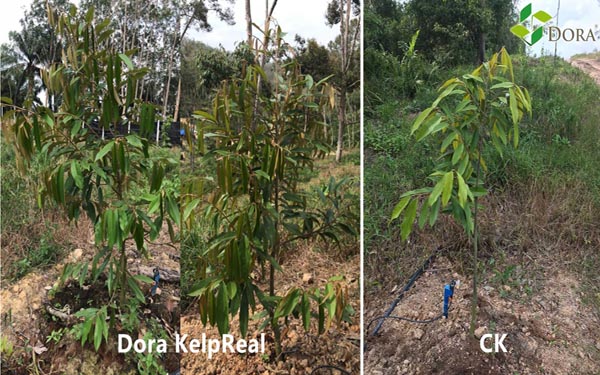 5. We sprayed Dora KelpReal and FishBlend on the leaves with two different concentrations during the growing period. The spraying concentration is shown in the table below.